Rob Schwimmer
• Composer • • Pianist • • Thereminist • • Haken Continuum •
• Former Co-Director of The NY Theremin Society •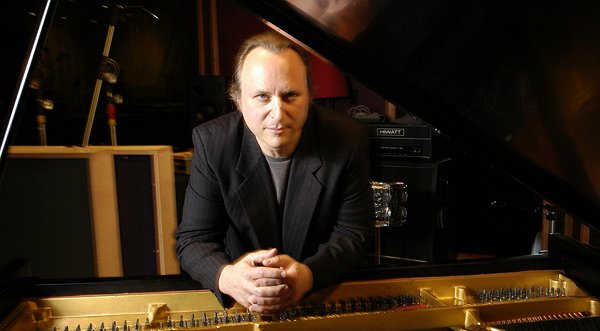 "Another delightful surprise was theremin artist, pianist and Haken Continuum player Rob Schwimmer ... [more >>]
— John Ephland
Retrospective of the 2022 Gilmore Piano Festival
Downbeat, June 14, 2022
---
"Rob Schwimmer, Heart of Hearing: I'd never heard of Rob Schwimmer till a musician friend thrust this album into my hands ... [more >>]
— Fred Kaplan in The Best Jazz of 2019
Slate, December 5, 2019
"For anyone who thinks the magical properties of 88 keys are pretty well exhausted, Rob Schwimmer's Heart of Hearing may come as something of a revelation. This is piano music that creates its own field, neither jazz nor classical nor pop, and with a touch of Theremin to boot. The fusion of virtuosity and originality is by turns exhilarating and moving, no less so in his treatment of standards than in his originals, all of it invoking a dazzling clarity of purpose."
— Gary Giddins
distinguished jazz writer/critic/reviewer
"Highly recommended." [more >>]
— Andy Hamilton in International Piano
March 19, 2020
"Heart of Hearing ... [is] a manifesto of sorts - a proclamation that all styles are fair game if you can play them convincingly and if you have the technique and imagination to move between them without ever sounding out of your element." [more >>]
— Allan Kozinn in San Francisco Classical Voice
July 20, 2018
"... there is a great deal of wisdom – and wit and genuine tenderness – in Schwimmer's art. On Heart of Hearing, his palette is in plain view. But if you really listen, you might just see how his mind works, too" [more >>]
— Greg Buium in Point of Departure
June 2018
I grew up in a small town by the ocean in Japan. Where I lived, people like Rob Schwimmer only existed in movies, books, the world of magic, wonders and legends. He would also have to have 12 limbs and 7 fingers on each arm, each finger connected to his millions of neurons in a neural network. By listening to this album, we too can quasi experience running through this rich deep electron forest of Rob Schwimmer's mind. Maybe a little? It's nice to fantasize...
— Yuka Honda
5 Stars - Rob Schwimmer, piano and theremin. A wonderful recording of one of the finest musicians anywhere. Wonderful, deep, great technique, clarity of ideas and execution, soulful, beautiful touch, smart. His theremin sounds so human I'd vote him vocalist of the year. Rob is a storyteller who is a master of moods. Whatever he is selling I will buy.
— Cooper-Moore
Heart of Hearing "[is] a marvelous achievement, kind of the culmination (up to now) of the many strands of your musical soul. The choices are eclectically perfect. And Lost In The Stars... wow. Vertigo, oh boy! That music always takes me to an indescribable place of Hollywood eeriness and you nailed it.
Thanks for sharing it with me and the world."
— Michael Feinstein
---
Reviews of the world premiere of Mark Morris Dance Group's "Pepperland" written by Ethan Iverson. Rob played the theremin.
---
---
---
Clifford Allen reviewed "Mr. Joy: A Celebration of Paul Bley" in the NYC Jazz Journal (February 2016)
---
Sean Michaels wrote a book called Us Conductors based on Leon Theremin's life, which just won the Giller Prize. Rob played a few pieces when he was doing his book reading last summer at GreenLight Books over on Fulton in Brooklyn as you can read in his article for The Wire
---
"My First Theremin" [more >>]
— Keyboard Magazine
August 2014
---
"...beneath that unpretentious exterior there is a master of his instrument and an artist of supreme insight and sensitivity." [more >>]
— John Hammel
Mozart to Motorhead Radio Show
Home Grown Radio NJ
---
"Where Better to Play a Theremin Than on a Boat?" [more >>]
— Corinna da Fonseca-Wollheim
The New York Times
---

"Beyond the Sky, a collection of short pieces and miniature suites, offers a tour of Mr. Schwimmer's musical house, moving from room to room without much concern about whether the material at hand is classical or jazz, improvised or carefully plotted." [more >>]
— Allan Kozinn
The New York Times
"This is exquisitely beautiful music, worthy of deep listening" [more >>]
— Ernie Rideout
Keyboard Magazine

"Schwimmer combines a genuinely impressive sense of structure with a jazz-fueled spontaneity and an ear for instantly memorable melodies" [more >>]
— Steve Smith
Time Out NY
"Let's focus first, not on the scale of the Canberra International Chamber Music Festival and its Sounds Alive program —large ensembles, chamber groups, sexy vocalists, technical prowess— but on the power of a single figure, at one instrument, a crowd rising in a terraced wave from his humble place on a wooden platform. As Rob Schwimmer plays..." [more >>]
— Zsuzsanna Soboslay
RealTimeArts.net (Australia)
"Schwimmer's an accomplished pianist, performer and composer, who's worked with the likes of Willie Nelson, Stevie Wonder and Paul Simon" [more >>]
— Mary Huhn
New York Post
"You may not know Rob Schwimmer, but you oughtta ... Beyond The Sky focuses mainly on his piano playing and composing, both of which are remarkable. " [more >>]
— Wes Phillips
Stereophile

"Beyond Virtuosity"
"Rob Schwimmer is a composer, piano virtuoso and thereminist who has long gained the respect and admiration of many in the music industry" [more >>]
ASCAP Playback Magazine(Fall 2006)
"Not only is Rob Schwimmer one of my first-call piano players, he's also a great artist in his own right. His compositions, technique and interpretation all come together on Beyond The Sky —Some of the best piano playing I've ever heard!"
— Arif Mardin
legendary producer
Grammy Lifetime Achievement Award
"Beyond The Sky is fantastic. In every way....writing, playing and pianistically. Dynamically. Lyrically. I could go on. Congratulations. You're killin', man!"
— Michael Brecker
Grammy Award winning jazz great

"Astounding. Extraordinary. Other Worldly (Hence the title?) Those Hands...That Brain! Passion and Intellect in equal measure. Congratulations. All The Things You Are rocks.
— Vernon Reid
guitarist/composer (Living Color)
"It's brilliant. Holding You In My Arms is gorgeous..."
— Adam Guettel
Best Musical Score Tony 2005
"Light In The Piazza"
"Thanks much for sending me the new CD, which I heard yesterday with great delight. The song paraphrases are witty, your original pieces fascinating, and of course the "Waltz for Clara" is especially meaningful."
— Robert Sherman
WXQR Radio

"Utterly unique...Virtuoso in the extreme...One of a kind...Such great surprises! The structures are so thoughtful and complete...I couldn't wait to hear the next track...The most imaginative version of Stormy Weather I've ever heard...The world deserves to hear you." (Beyond The Sky)
— Leonid Hambro
renowned classical pianist/
piano competition judge
"This solo piano exploration (Beyond The Sky) by Rob Schwimmer is full of passion and love...his execution and ideas flow with a beautiful sense of freedom that captures you from his first phrase to the last."
— Joe Lovano
Grammy Award winning jazz
saxophonist and composer

"His compositional and improvisational delivery were equally sumptuous, reflecting an acute sense of structure." [more >>]
— Concert review from
All About Jazz — 2/1/08
"Rob Schwimmer's 'Beyond The Sky' is a skillful, creative, and natural blending of classical and jazz influences. It's an impressive display of passion, virtuosity, and seemingly spontaneous inspiration. Rob's original haunting ballads are little gems that tug at your heart and demand repeated listening. I especially love his 'Waltz for Clara' (for theremin and piano) ... a wonderful piece that perfectly captures Rob's unique musical vision and manages to be nostalgic and futuristic at the same time. "
— Richard Dworsky
pianist/music director for
A Prairie Home Companion
"Rob Schwimmer uses the piano like a French impressionist painter uses a brush ... painting scenery, mood and atmosphere taking me to strange and beautiful places. This music is incredible, very original, takes great chances and I've never heard anything quite like it before —I love it! He is a true artist."
— Geoffrey Holder
Tony Award Winning Director, Actor, Choreographer
"It's beautiful! Subtle, intriguing music. If Skriabin grew up listening to the best American pop, he would sound something like this."
— Limor Tomer
Whitney Museum Adjunct Curator of Performing Arts
Music Curator at BAM, Lincoln Center Festival, Symphony Space
"Its gorgeous!! Nice sound and strong playing...you can really tickle them thangs!!! The piece all seem real structured and thought out...I like Ostinato and Repeated Notes and Quicksilver (especially the sudden rests!) Almost seems like they could go on..short and sweet though. And Double Helix and Beyond the Sky (and some of the rest too) have a great impressionist quality/sonority though they move differently....great work...thanks again for the CD, very beautiful"
— John King
composer/ guitarist
"If you buy this expecting the madcap Rob Schwimmer of Polygraph Lounge you will be surprised. I mean, it's the same Rob Schwimmer, but this album of solo piano and theremin compositions and improvisations is the work of a sober citizen —Which is not to say that it isn't quite lovely, because it is. Straddling that ethereal border between classical Impressionism and chamber jazz, this is a pensive and pretty recording — A pleasant shock but certainly not a disappointment. Rating:

****

"
— George Robinson
The Jewish Week
"The album is terrific and I love it! Great work. Sounds just like you at your very best, which is really really good, as you well know. I think my favorite (original) is the 3 Tone Poems. Favorite standard is Stormy Weather —Lovely stuff throughout."
— Warren Bernhardt
esteemed pianist
"You know how some people can just sit down at the piano during a party and play for an hour or two nonstop, keeping everyone enthralled? On this solo piano album, Rob Schwimmer achieves that sort of effect, except he does it mostly with original music that straddles classical and jazz with a touch of the avant-garde. He throws a few chestnuts our way, including "Buddy, Can You Spare a Dime?" and "Stormy Weather," but aptly categorizes his renditions as "Hallucinations on Popular Songs." Come to think of it, the whole recording has a reassuring, hallucinatory quality that draws a listener inside Schwimmer's fertile musical imagination. "
— Seth Rogovoy
Berkshire Living Magazine
---
"Theremin Noir is inhabited by an uncanny beauty. A moody, delicate, and highly original album. Strongly recommended.."
— François Couture, All-Music Guide
"Really enjoyable and quite impressive... an incredible musician and a fantastic theremin player!"
— Elliott Sharp
"Best of 2001 CD's" (Theremin Noir)
-George Graham WVIA-FM
---
"Rob Schwimmer tells compelling stories with his fingers. When they connect with a piano keyboard, the music connects with us, and we hear passions, adventures, love stories, and tall tales, all told in an involving, personal style."
— David Garland
WNYC New York Public Radio
"What would you do if asked by a well-known film director to re-create a musical scene for which the fate of the whole project hinges?" [more >>]
— Mark Rubin
on making the Gwyneth Paltrow track for the movie "Infamous"
The Austin Chronicle
"Stunning"
— Boston Herald
"Rob is a technical and musical virtuoso"
— Attencion (Mexico)
"...seemingly limitless keyboard skills."
— Berkshire Advocate Weekly
"...grace with power"
— Option
"Well-stocked brains, strict performance discipline, and killer chops."
— Boston Globe
"Master Improvisor"
— WNYC Radio
"Haunting and unforgettable"
— The Wire (UK)
"Brilliant"
— El Independiente (Mexico)
"...his piano playing has a great push-and-pull of romanticism and rigor...an enjoyable way of being complicated but flowing gracefully."
— David Garland, WNYC-FM
"Brainy and dreamy"
— Charlene Baldridge
San Diego News
"I enjoyed it very much! Great compositions and great playing!!! You sound great. "
— Uri Caine
"The CD lives in my car player out here in LA."
— Jack Douglas, producer
John Lennon (Double Fantsay), The Who (Who's Next), Miles Davis, Aerosmith
"What a sensational album! You play wonderfully, but I am more taken by your music —The album is a great accomplishment."
— George Steel, Executive Director
Miller Theatre, Columbia University
"It's absolutely beautiful - beginning to end. I can't thank you enough for sending it to me. The production values, the compositions... the whole 9 yards - just delicious!"
— Elliott Randall, guitarist
Steely Dan (Reelin' In The Years), etc.
"I listened to your amazing CD tonight. I don't know what to say: I was blown away, really surprised by your references, your past, your ear, your agility, your taste."
— Jonathan Sheffer
conductor, artistic director
(Red, An Orchestra/ Eos Orchestra), composer
"Man what a beautiful CD, your chops sound strong & clear. For a record that is as diverse as yours is, the strength of your voice and the humor and the playfulness of what you play hold it all together."
— Jamey Haddad
master percussionist (Paul Winter, Osvaldo Golijov, Paul Simon, Nadia Salerno-Sonnenberg, etc.)
"I welcome and applaud a sensibility like Mr. Schwimmer's; a composer who writes and performs with a sensibility that resides in a musical landscape that holds to no boundaries." [more >>]
— John Hammel
WNTI-FM "From Mozart to Motorhead"
"Jesus roller skating Christ man! This is exactly the record I was dying for ya to do! It's gooder'n hell! Wheee! Badass! You must be stopped!"
— Jimi Tunnell
composer/guitarist/vocalist
Steps Ahead, etc.
"Jesus Christ Rob, you're a genius! I really love it - amazing music, and very original."
— Leo Abrahams
composer/guitarist
"Accomplished theremin virtuoso...Schwimmer's own compositions are what makes the disc especially memorable...Disciplined freedom"
— Jazzwise (UK)
"...a marvelous release."
— DMG
"I particularly enjoyed the work of Rob Schwimmer"
— Art Vincent/Jazznet
"His control of this odd instrument, which is played by a laying-off of hands —you move through electric fields generated by its antennae, controlling volume and pitch without ever touching the beast— is sublime."
- Linus Gelber, Music Dish
"...soloist of note"
- Down Beat